John Hartman brings a vast wealth of knowledge acquired during his 44 years as a working professional photographer. His teaching experience spans 35 years, during which he has assisted tens of thousands of photographers at hundreds of conferences, conventions, seminars and workshops, including his highly acclaimed Las Vegas Marketing Boot Camps.

John's unique combination of artistic and technical skill, plus his ability to make complex processes easy to understand, help to provide an unmatched learning experience.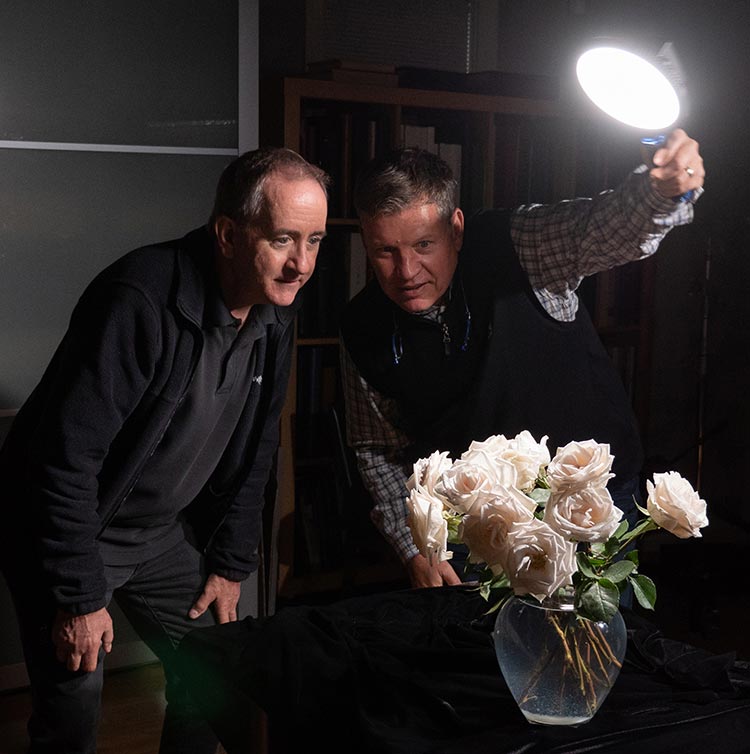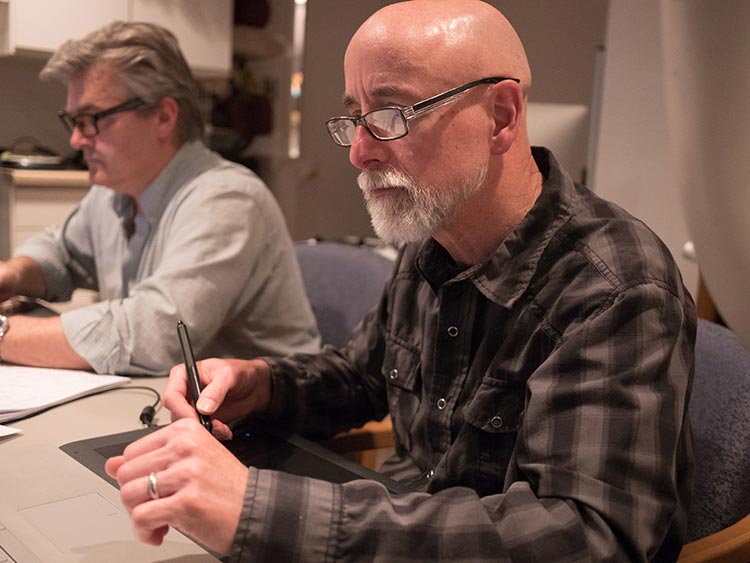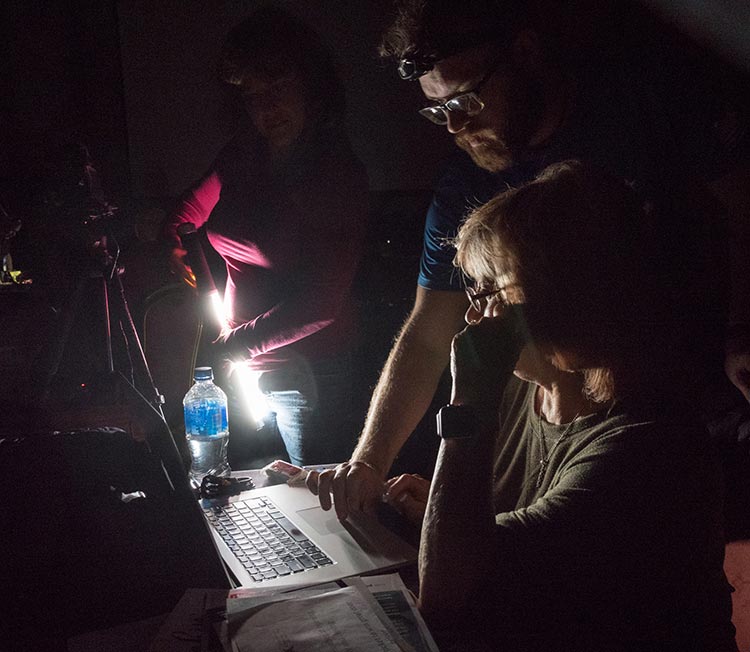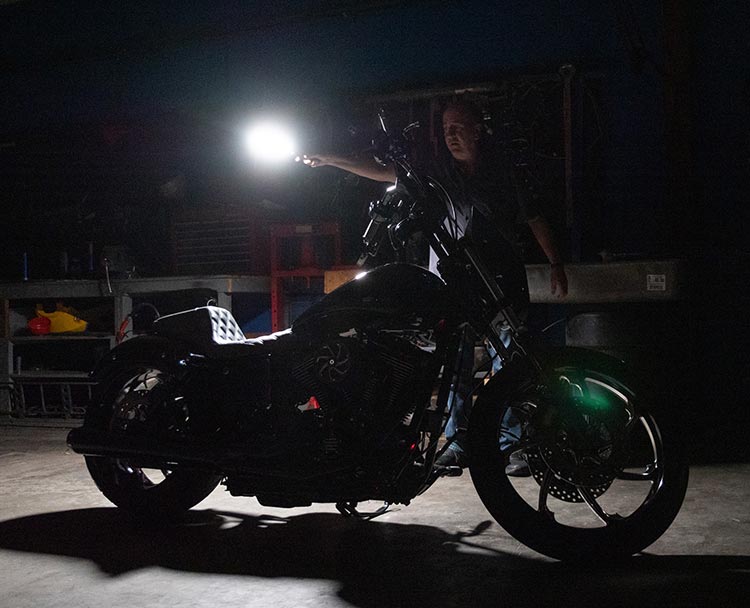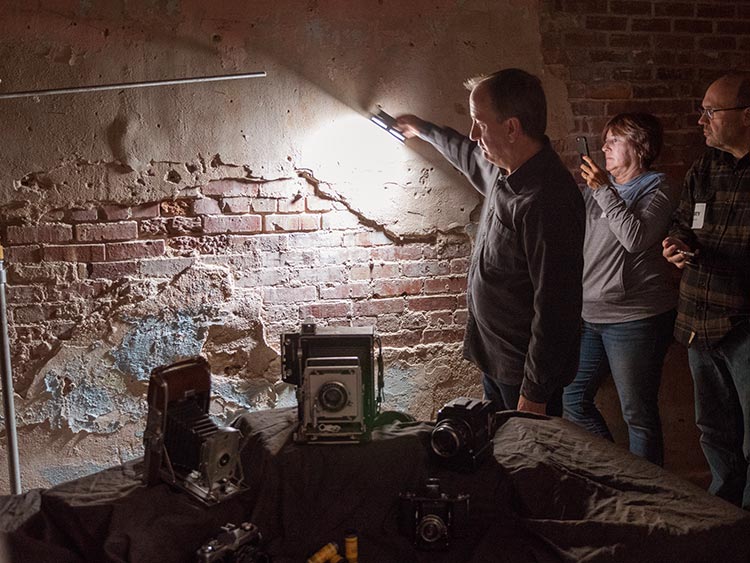 What subjects will we be light painting?
There will be two separate large scale light painting projects for each workshop. What we will be light painting will vary depending on availability, location and weather,. Subjects could include automobiles and other vehicles, homes, motorcycles, or aircraft. John will light paint the first evening's project, and students will have the chance to both light and expose the second evening's project.
Some scenes from an actual workshop.
What others say about John's workshop.
If you are a photographer who loves having your work stand out in the crowd, and who expects to be able to actually sell the unique work you create, John Hartman's Light Painting workshop is what you have been searching for. John's unique style of light painting is very different from what the masses are producing, and falls more under the category of "fine art photography" than anything you can see on Flickr or other public sites. His method produces a "painting" that is both classy and quirky at the same time, and you will soon discover that your customers will be eager to purchase what you will be able to create for them when you utilize the training learned in his workshop.

John is an excellent instructor, presenting his one-of-a-kind method in a clear, concise, patient, and hands-on style. All his images are "straight out of the camera," but do require compilation in Photoshop. He will teach you the necessary Photoshop skills in such a manner that even a PS novice will easily understand and be able to utilize the skills back home after the workshop. (BTW, if you do have questions after the workshop, John always make himself available to answer your questions and give you feedback on your images.) Like any other photography skill, there is a learning curve to this light painting, but John patiently walks you through the process, and takes pride in your future growth as a photographer. Oh, and marketing? John is the master at marketing, and will gladly share with you his many years of experience of how to turn your photographs into a bank deposit!

You won't/can't learn how to light paint like this anywhere else, and very few people in the world are doing it at the level that John is. This is a "ground floor" opportunity in photography that you don't want to pass up!

If you could use another revenue stream in your photography tool box (and who doesn't?), John Hartman's Light Painting workshop is a guaranteed producer. Besides all that, light painting the way John does it is just pure, unadulterated photography fun!

Steve Templeton, Abilene, TX
I was amazed at the quality of light in John's images and wanted to see how it was done.The class was great! After seeing John light a still life set in the studio, we were able to light a project of our own. John was there showing us tricks all the way.We were then shown how to finish the image in Photoshop.I was able to produce in class a photograph that I can use to promote more light painting images to my clients.The content of the class was great including handouts that outlined everything talked about in class.This class will give you everything you need to start using this technique to produce beautiful artistic images!Ken Shepard, Bellevue, WA
Best class I've ever taken. John is an expert instructor that will take the time to show you the process step by step and make sure that you will understand. I am using the technique and expertise learned to expand my photo business into the custom car market. Would recommend to anyone looking for a new niche.

Bill Waibel, DeSoto, Texas
Just wanted to say thank you for a great workshop! Your teaching style was straightforward, supportive, and approachable. You broke the concepts down into simple steps and that is how my brain works so it made total sense! I can't wait to take what I've learned from you and merge it into something that I can do with my pet and equine photography.

If you are considering attending and are serious about learning this technique, sign up now and learn from the best!Nicole Begley, Wexford, PA
I had seen the work John was doing with the light painting and I thought it was beautiful. John is a good teacher. I thought the pace of the class was just right. It was easy to ask questions and have them addressed.

It was a fun workshop. The experience was worth the investment, and I had a blast!Paul Crave, Beloit, WI
John presents information with the ease and professionalism of someone who has obviously been doing this for many years.
I see this as a VERY important product as I transition away from traditional studio and portrait work to a more fine art based business.

Very much worth the investment. If you are seriously considering adding this type of work to your repertoire this workshop is a MUST.Mark Campbell, Wheeling, WV
John's images sort of evoke a Norman Rockwell quality that I really liked. The workshop was a worthwhile investment for me on all accounts, and I'm hoping to turn it into a profitable product line. I thoroughly enjoyed the workshop. It was fun!John Bender, Stroudsburg, PA
John is a great teacher! He goes slow enough to makes his subject easy to follow! You can search the internet and find some basic light painting concepts but the details to get the great results are usually missing. John will shares the little tricks he has discovered! His art is wonderful!Herb Doller, Duncanville, TX
John provided a clear demonstration of both the lighting and post-processing technique for studio and location light painting, combined with hands-on practice with the skills in a studio setting. He is a great instructor, especially in the small-group setting of his light painting workshop. He's patient and open to questions from participants. It's a highly focused class, but at the same time relaxed and friendly. You'll learn a lot and want to rush home and practice.Mark Turner, Bellingham, WA
I am really glad I took the course. John's content and presentation were excellent. If you have even the smallest inkling about light painting, spend the money—its worth it!Gary Campbell, Santa Ana, CA
If you're a photographer that wants to expand your abilities to create images and products that 99% of other photographers can't do, then John Hartman's workshop is for you.

John takes you methodically step by step thru the entire process and shows you in detail what would almost be impossible for you to figure out on your own.

What you end up with after the workshop is the knowledge and ability to go out and start immediately creating one of a-kind stunning images on your own.

John Hartman was always the "King" of showing other photographers how to market. Now he is becoming the same with light painting for the photographer that wants to advance his or her skills in a whole new area.Kent Smith, Chanhassen, MN
I was looking for something different to offer in my product line, as I have been seeing a steady decline in portrait clients.

The workshop was FUN!! And not as complicated as I first thought it would be. John's teaching style is very easy to follow and understand. If we needed him to go over something again, he did.

WORTH EVERY MINUTE, all the energy and EVERY PENNY—DON'T WAIT!! SIGN UP TODAY!!Sharee Brownlee, Claysville, PA